WE ACCEPT CREDIT CARD ($ & €)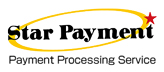 Dollar Euro available
Customers using more than twice
Visa, MasterCard via, AMERICAN EXPRESS, Star Payment available
Processing Service (TEL : 03-4334-3663)
Card processing fee 15%
PAYMENT OVER THE TELEPHONE
① Call us at 03-5944-9809
Please call us and 03-5944-9809 (local) or +81-3-5944-9809 (International).
ー Please provide the following information ー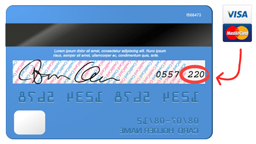 1. Credit card number
2. CVV code ※which is back on the credit card
3. Passport number
4. your phone number in your country

We make the best effort to protect your privacy and will not disclose your privacy information to others.
ー Transaction may take up to 5 minutes ー
Credit card processing by Star Payment System will take approximately 5 minutes.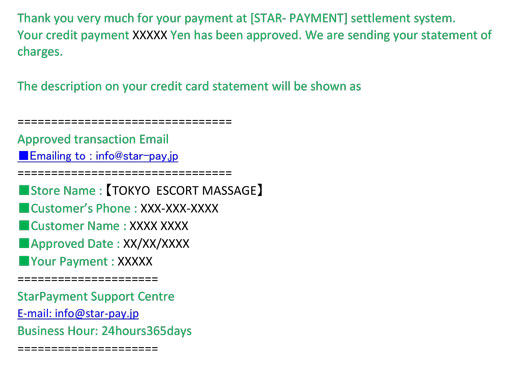 As soon as the payment process is completed, your reservation is confirmed.
You will receive a receipt.

③ Meet Our Attractive Girls
Our service girl will visit you to provide massage service with your payment receipt.
Now the time for The Erotic Kaishun Massage!
PAYMENT USING PC or SMART PHONE
You must confirm the following details before making credit card payment
1. You are purchasing a service from Tokyo Escort Massage.
(Please verify the vendor name)
2. You have confirmed your reservation and the total service price by calling 03-5944-9809.
(You must first make and verify your reservation with Tokyo Escort Massage.)
3. After verifying your reservation and total service price, please use the buttons below to process the credit card payment.
(Please enter the total service price in the amount field. You must use your own credit card, we may ask for an identification document.)